Blue Diamond Luxury Boutique Hotel
Contemporary sensibility that harmoniously marries art and nature
Guided by our oriental heritage, and influenced by the Yucatan's vibrant cultural diversity and the region's rich architectural heritage, we have created a unique luxurious experience in this extraordinary destination.

The design predicated on respect for nature and had been determined by its natural surroundings and whose construction would make a minimal impact on nature by becoming an integral part of it.

Art became a crucial element in response to the Blue Diamond Luxury Boutique Hotel 's natural setting, contributing a world charged with sensations, atmospheres, hues, flavors and redolence. It fortuitously appears in every one of the distinct spaces within this extremely refined hotel complex, designed for pleasure, relaxation and the profound —perhaps meditative— enjoyment of all who are privileged to experience it.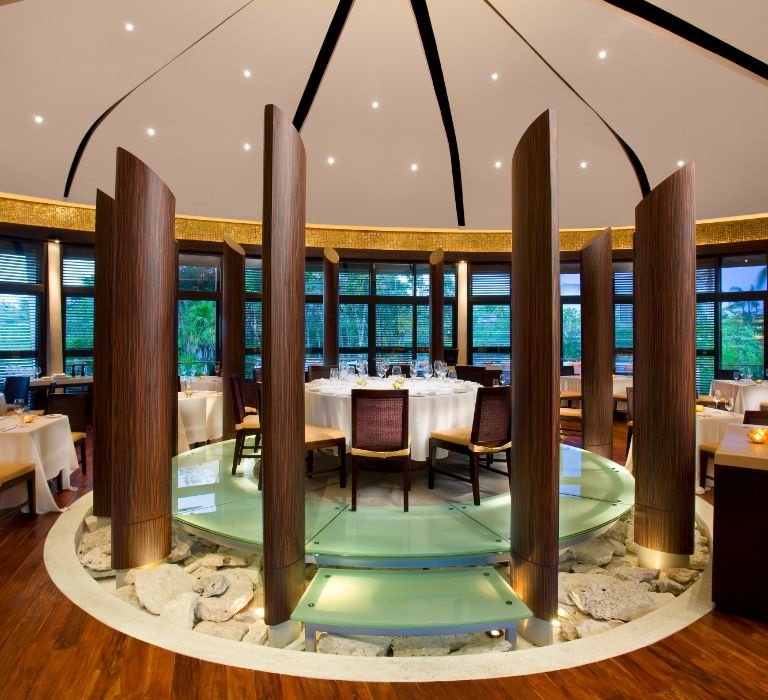 The artistic legacy of Mexican culture
Here, on this slender stretch of verdant jungle nestled along the dramatic Yucatan coastline, the artistic legacy of Mexican culture has had a profound impact on our resort. The felicitous union of architecture and art has produced sumptuous comforts reflected in the pleasurable intimacy of the guest quarters, elegant common areas, flowing canals, spectacular cenote, contemplative harmony throughout the gardens, the blessed peace contained within the courtyards and other equally fascinating spots, along with the art adorning them.

Surely, this unique model of art will leave an everlasting mark, standing out for its visual and esthetic contribution as well as its insuperable artistic significance.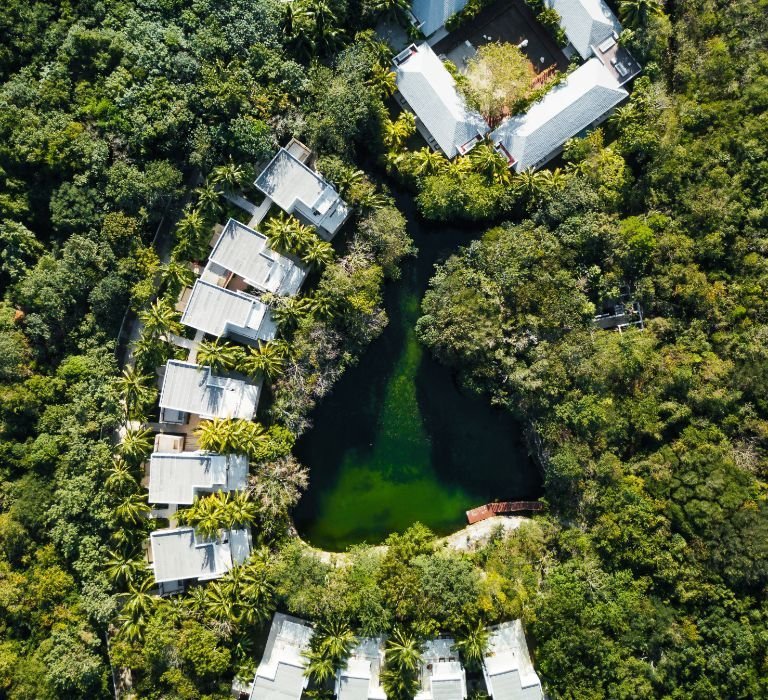 Blue Diamond Luxury Boutique Hotel design brings nature to center stage.
The resort pays tribute to its natural setting by an all-out effort to showcase its enigmatic beauty to best advantage. while at the same time safeguarding and conserving it from destruction. The culturally and biologically diverse Yucatan Peninsula plays muse, generously inspiring and motivating a host of alternatives for those who seek sophisticated accommodations and contemporary comfort.

We took special care to ensure we abided by official guidelines, carrying out environmental impact studies on the various eco-systems, particularly the mangroves and water area as well as on the flora and fauna.
Art courtyards
Art and architecture
Paradise at your fingertips
Architecture is the art of living well. Our luxury resort has a design that is focused on the vanguard. It is a construction of the strictest elegance and quality, guarded by the jungle and the sea. It is a work of minimalist design and organic lines, with an open concept, adorned by gardens and works of art. The resort's suites are arranged around the river, the lagoon and the cenote. This demonstrates our brand commitment to taking care of nature and the local environment.